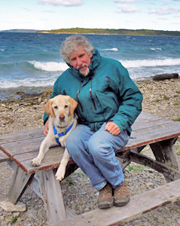 Wood has a visual and tactile warmth not found in man-made materials. I find the process of taking my raw material, a tree, and converting it into an object with pleasing lines, accentuating and showcasing the natural figure and color of the wood, both inspiring and satisfying.
My work has both traditional and contemporary styling. I use locally harvested hardwoods that have exceptional figure and color from which I make traditional items such as bowls, platters, and peppermills, while employing a minimalist form to yield clean flowing lines. I may us hand-carving as an enhancement to form, and I explore scientific, astronomical, and whimsical subjects through sculpture to tell stories and make statements.
My work is available in the Art IN Hand Gallery in Zionsville and I am a member of Indiana Artisan and my work can be found in the Indiana Artisan outlets in French Lick and Carmel, Indiana.